Having an MEP Academy Estimating Spreadsheet that automates portions of your estimates, will save you valuable time that could be used to make more sales. All aspects of the cost of furnishing and installing an HVAC and/or a Plumbing system is contained in one spreadsheet made specifically for the MEP industry. For plumbing only see below.
For a Plumbing only Spreadsheet, use this Commercial & Residential Version. Plumbing Only. For a simple Residential HVAC & Plumbing Spreadsheet. Residential version.
Dashboard
The Main Dashboard provides you with all the information you need to make a quick decision on whether to make further adjustments, or if one of the metrics looks out of place based on historical data. The Dashboard gives you a quick overview of all that is going on within the Estimating Spreadsheet.
Your MEP Academy Estimating Spreadsheet needs to be able to handle rental equipment, general conditions, subcontractors, piping and plumbing takeoffs, sheet metal, labor rate tables with crew mix capabilities, , and a bid summary. Each sheet in the estimating spreadsheet automatically calculates the values you enter, showing you a new total bid amount.
Will cover portions of the MEP Academy Estimating Spreadsheet starting at the back of the Excel spreadsheet and working our way toward the front summary page last.
Labor Rate & Crew Mix Table
Choose your crew mix based on the level of experience and the different pay scales based on each project. Pick any combination and quantity of tradesman based on the requirements of the project.
There is a separate crew labor rate for HVAC Piping Shop & Field, Sheet Metal Shop & Field, and Plumbing.

HVAC & Plumbing Equipment
Enter the project equipment price and labor to rig the HVAC and Plumbing equipment into place. Compare supplier pricing easily side by side. The MEP Academy Estimating Spreadsheet automatically selects the lowest bidder but lets you override that decision.

General Conditions
Do you need a jobsite trailer or onsite management? Enter the quantity and level of the staff required to run the project, whether one person or dozens. Set the quantity and duration of each general condition, along with the rate. General Conditions is broken down into three sections as follows: #1 – Management, #2 – Construction Office (Non-Reoccurring Expenses), and #3 – Construction Office (Reoccurring Expenses).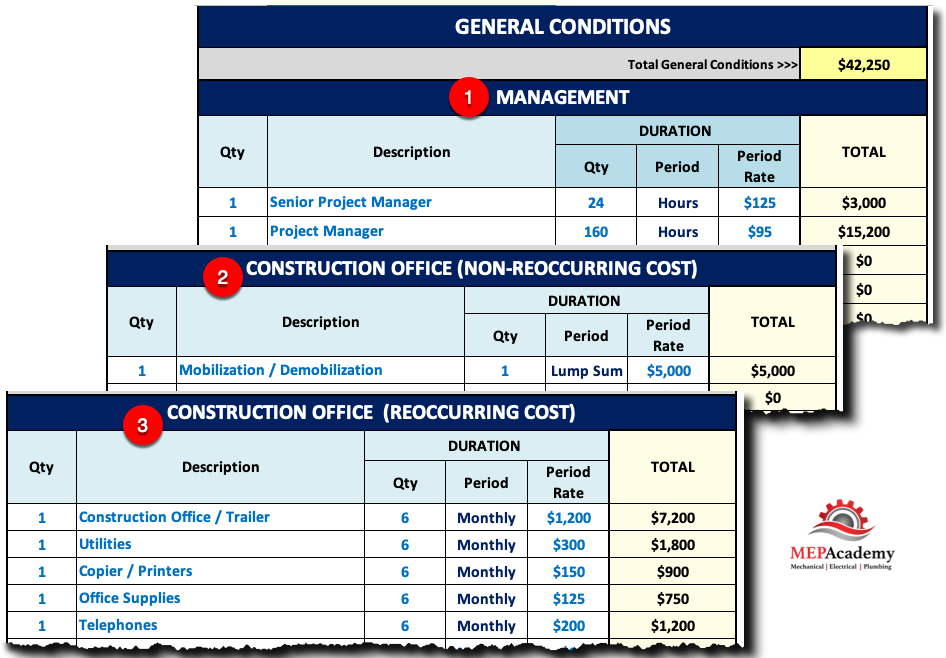 HVAC & Plumbing Subcontractors
HVAC & Plumbing contractors often subcontract out for Air & Water Balance, Sheet Metal & Piping Insulation, Water Treatment, Building Automation, Excavation and other specialty trades that they don't self-perform. This spreadsheet was made especially for the HVAC & Plumbing contractor and their most often used subcontractors.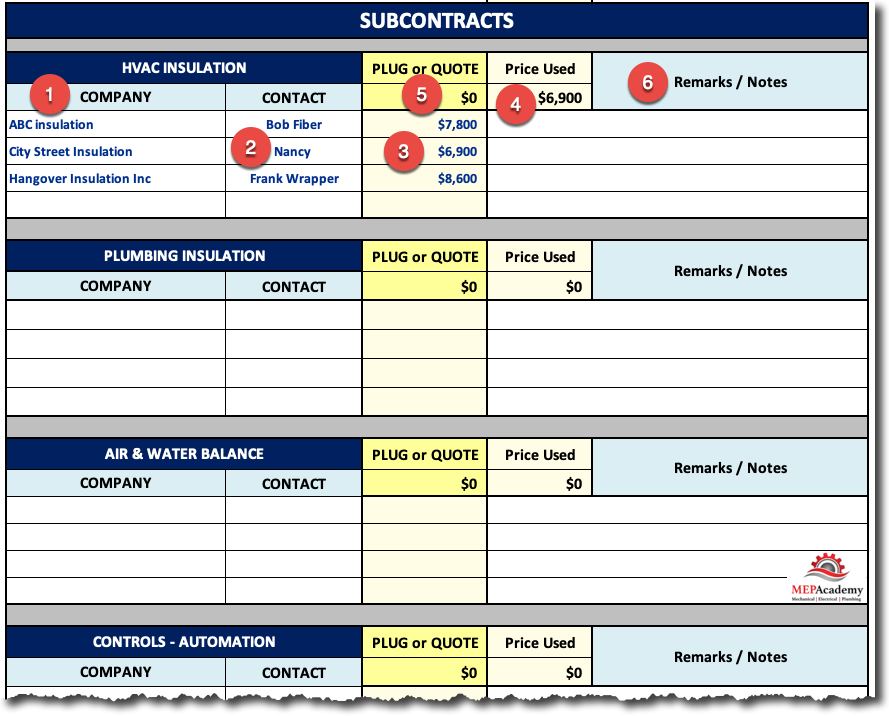 Plumbing Fixtures
For those contractors that do plumbing the following Plumbing Fixture sheet will give you a place to record your vendors quotes and the labor it takes to install each type of fixture. What is also revealed is the overall cost per fixture.

MEP Specialty Sheets
Each trade has a specialty sheet for those items that aren't considered equipment or a fixture, but for which there is a cost impact. The MEP Academy Estimating Spreadsheet includes Sheet Metal, HVAC Piping & Plumbing Specialty sheets.
Material & Labor Summary Sheets
You will find a Sheet Metal, HVAC Piping & Plumbing material & labor summary sheets where all of the other specialty sheets are summarized for your review and last minute edits. Each sheet will be divided between field & shop fabrication work. The first section covers the field installation items.
Field Summary Section
This is where you will put your material takeoff information for the following:
Rectangular & Round Ductwork
HVAC Piping
Plumbing Piping
This is also where the other sheets that you filled out will be summarized, such as the following;
HVAC & Plumbing Specialties
HVAC & Plumbing Equipment Labor
Plumbing Fixtures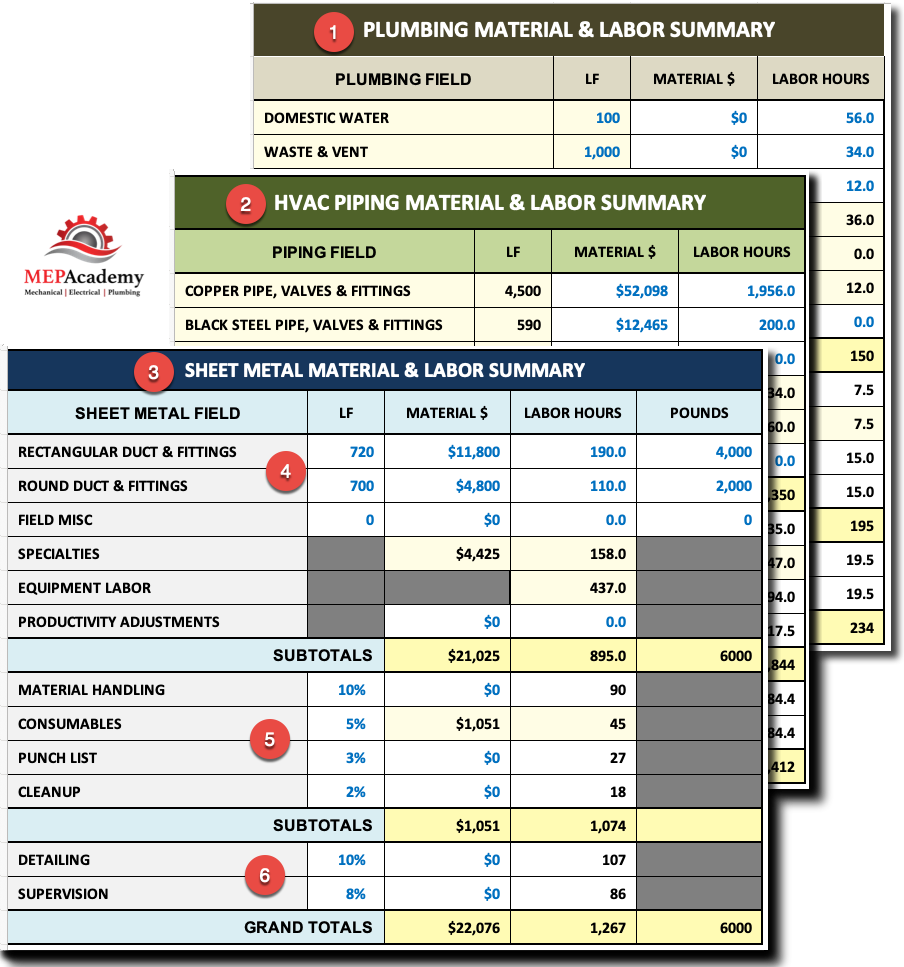 Each of the field labor summary sheets contain a row to add for the following
Material Handling
Consumables
Punch List
Cleanup
Detailing
Supervision
Shop Fabrication Summary Section
For those of you that have a fabrication shop, there is a section to add material and labor.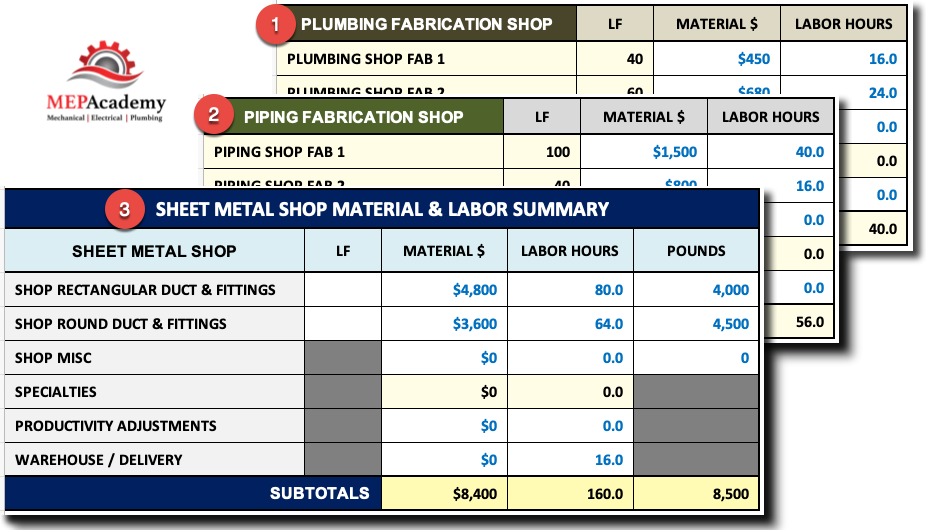 Rentals
For those HVAC air conditioning and Plumbing projects that require a crane, fork lift, scissor lift or any other equipment that you don't own but will be required on the project. Having a spreadsheet that maintains a list of the most common equipment you normally rent along with their rental rate will save you time and money while avoiding having to call for pricing on every job.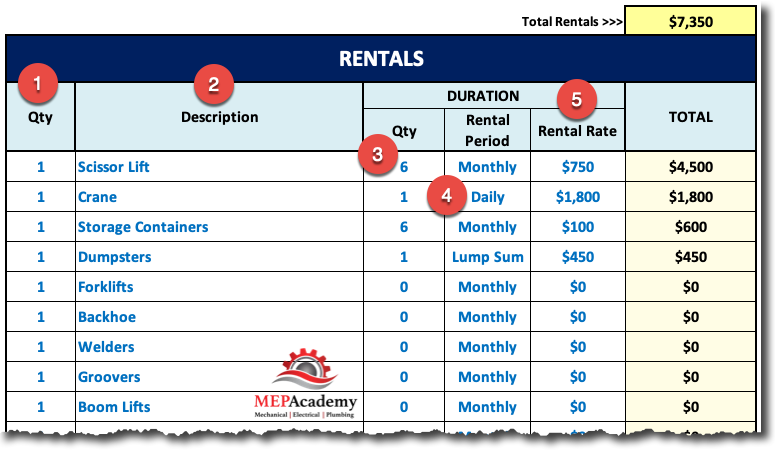 Engineering
If you do your own design then you should have a sheet of each of the personnel responsible for spending time on the engineering task. If you're doing design/build work, but don't do the engineering yourself, but hire a third party, then you should add some engineering review time. It's your responsibility to manage your third-party engineer to make sure they design within your cost parameters.
Estimate Summary
All of your estimates are summarized on the last tab of the MEP Academy Estimating Spreadsheet for easy review. You can quickly scan each of the categories to see where all the project cost has shown up. There is the labor and material summary for HVAC Sheet Metal, HVAC Piping, and Plumbing and another section for Subcontractors, General Conditions, Rentals, etc.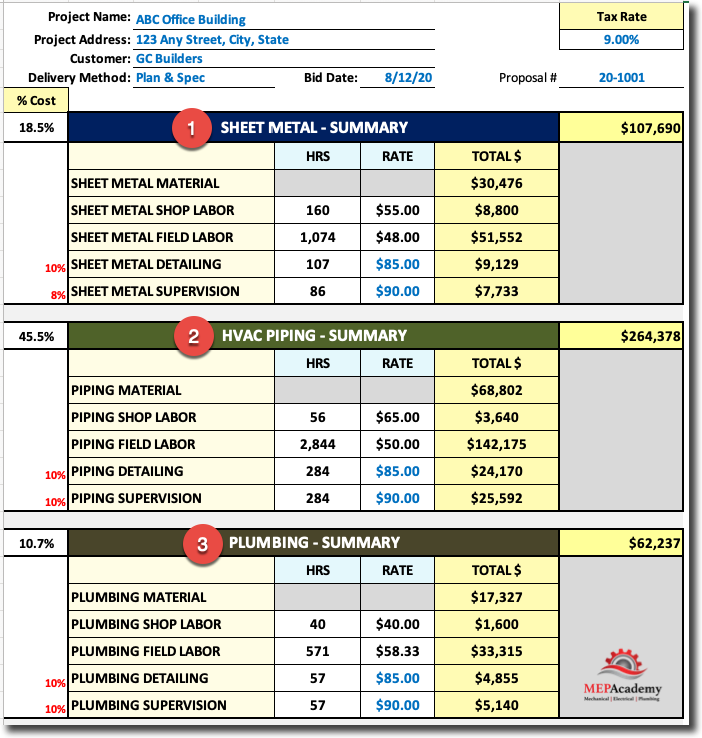 Bid Risk Assessment Form
The MEP Academy Estimating Spreadsheet contains a bid risk assessment form that rates the success of winning any particular project that you are contemplating pursuing. The risk assessment form will help you determine if the project is worth bidding based on a set of questions that rate your answers.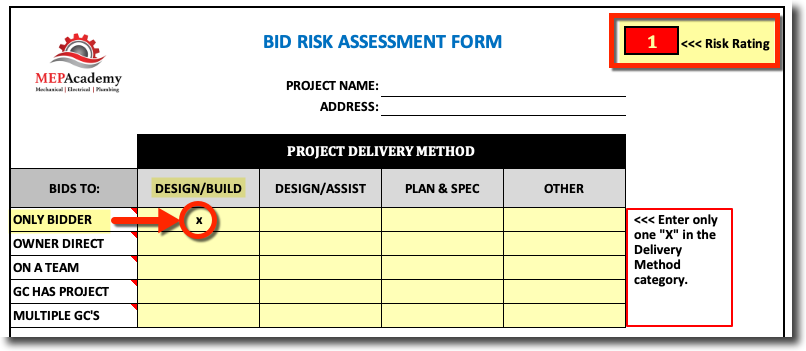 The answers to these questions will give you a score from which you can use to see how the project rates on a scale of risk and reward. The total risk assessment score will also inform you which level of approval is required within your company depending on how you rate your risk values as the example shown below. The total score is 25, which according to this contractor would require the Vice President to sign-off on the project or approve the decision to pursue bidding on the project.

MEP Academy Estimating Spreadsheet Summary
The MEP Academy Estimating Spreadsheet is used to gather all the information for estimating a project, putting it into a format where you can make quick adjustments and decisions while the spreadsheet gives you an immediate update on the price.
Purchase this spreadsheet at its currently reduced price of ONLY $245.00, which usually sells for $599.00
Watch the YouTube video below to see the MEP Academy Estimating Spreadsheet in action.