This Plumbing Estimating Spreadsheet was created by a 40 year veteran of the Commercial Construction Industry. It contains everything you'll need to bid a small project to projects worth millions of dollars. Check out this easy to use Plumbing Estimating Spreadsheet and establish accurate estimates.
If you prefer to watch the YouTube Video of this presentation then scroll to the bottom or click on this link Plumbing Estimating Spreadsheet
Win more bids by knowing your cost and having a spreadsheet that includes everything from labor and burden rate tables, plumbing fixture labor and material sheets, plumbing equipment, plumbing material and labor summary sheets to name a few. This estimating spreadsheet will save you time and money bidding projects and increase your accuracy.
All aspects of the cost of furnishing and installing a Plumbing system is contained in one spreadsheet made specifically for the MEP industry. We'll cover each of the tabs available in the Best Plumbing Estimating Spreadsheet available anywhere. We'll start with the Plumbing fixtures tab.
Plumbing Fixtures
the spreadsheet has a line item for all of the typical plumbing fixtures you'll find on a residential or commercial projects, plus many lines to add more. Each line has a fixture value that you can assign so that the spreadsheet automatically calculates the project cost per fixture for a sanity check.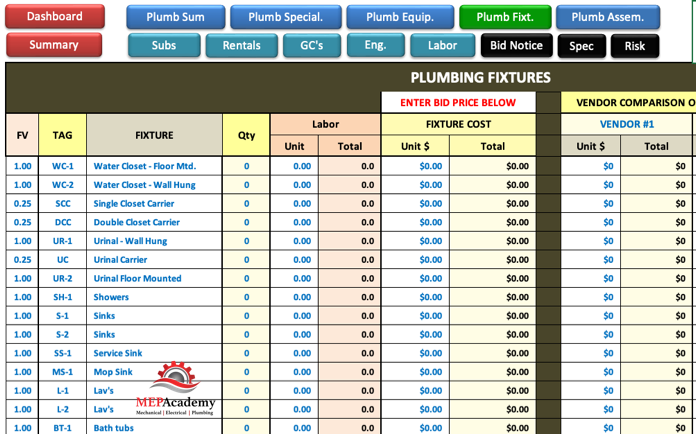 There are three additional columns not shown above that are used for vendor quote comparisons.
Plumbing Crew Size, Labor Rates & Burden
Easily calculate the total cost of labor including labor burdens.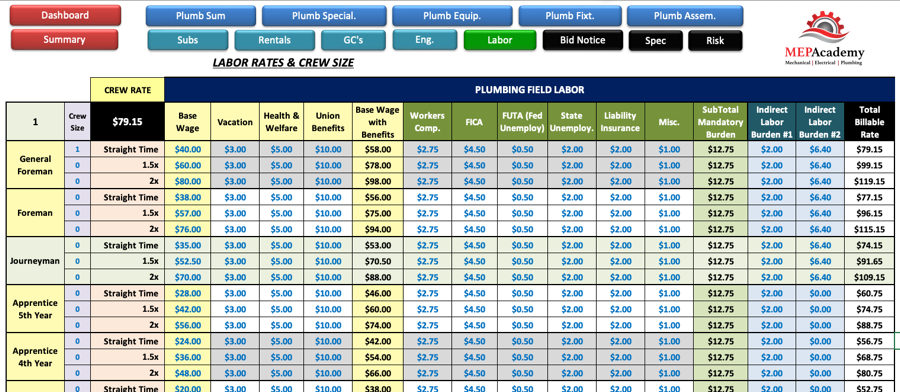 The labor tab includes categories for General Foreman through 5th year apprentice. If you have a non-union company then you can easily change the descriptions to fit your labor designations. Starts with base wage and benefits, plus employer tax obligations and burden. There is also a burden calculator to help you figure the cost to be recovered for burden expenses. Also, included is a separate section for shop labor (not shown above).
Plumbing Equipment
This sheet is where you could put anything not counted as a fixture such as Boilers, Water Heaters, Pumps, Storage Tanks, etc.
Plumbing Material and Labor Summary
This is the sheet that totals all the material and labor where you can do a quick review of the overall trade numbers. Add the total feet of piping, including material cost and labor for each of the piping services, such as Domestic Water, Gas Piping, Waste & Vent and Storm piping.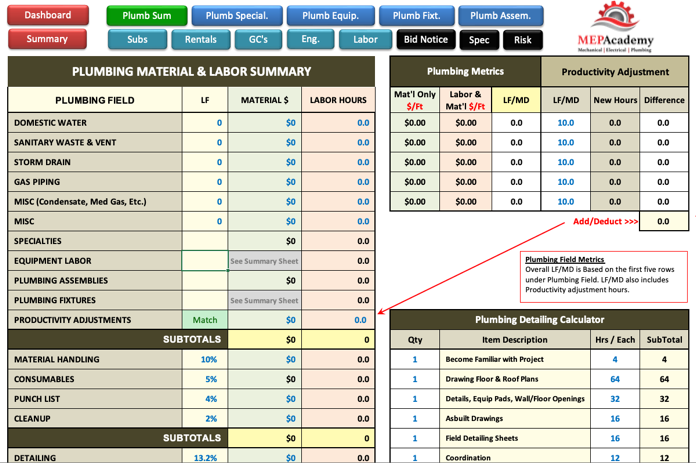 Included is a section to adjust labor and measure the performance using field labor metrics. Also included is a section to calculate detailing time required for any project requiring detailers.
Plumbing Specialties
This tab is for the material and labor cost that are considered specialties because they don't fit into any other category. They're not plumbing fixtures or equipment per se, but items that need to have material and labor cost applied to them, such as pressure testing, pipe ID's, Special Valves or Meters, seismic bracing, etc.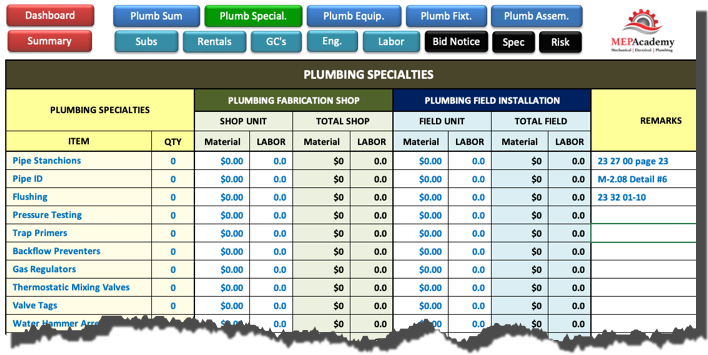 Plumbing Assemblies
This page is a time saver by having all your common fixture and equipment trim already preset, just select the size and quantity. Setup this page with the most common fixtures and equipment that you use repeatedly and for which you can list all the parts and pieces along with the labor. If you're familiar with assemblies you'll know this is a big time saver.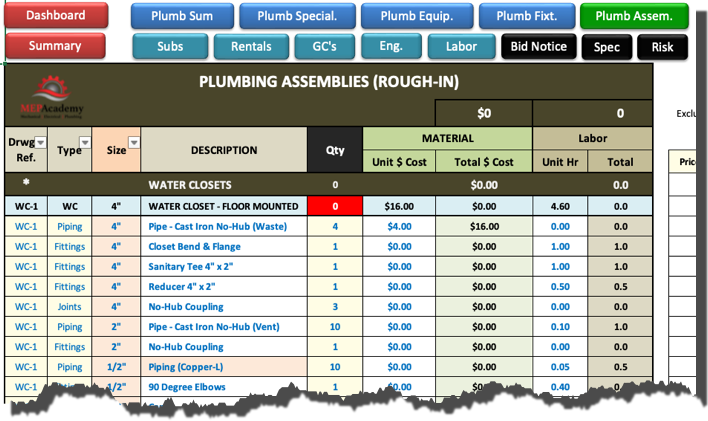 Rental Sheet
here is where you can put all the typical pieces of equipment that you normally rent and the cost for the rental period. Instead of calling the rental yard for every bid, just keep track of the typical cost of rental equipment.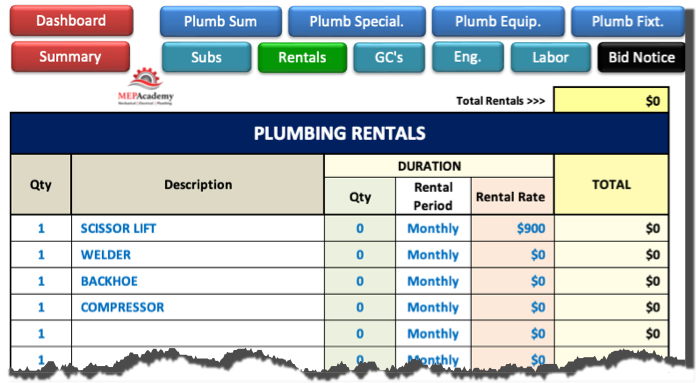 General Conditions
on this sheet of the plumbing estimating spreadsheet you'll put your reoccurring project management fees, job site Office Fees,
Subcontractors
This sheet is where you'll find your typical plumbing subcontractors like insulation, chlorination, excavation, etc. Just record the quotes from each of the subcontractors, compare then and select the subcontractor cost to carry.
Engineering
If you do you own engineering then you can easily set this up with the typical cost for your in-house engineering teams fees, or if you hire engineering firms and know their rates enter them here. This works well for those companies that do design/build work.
Main Estimating Summary Sheet
This is where all the cost is carried forward and you add your overhead and profit percentages along with any contingency.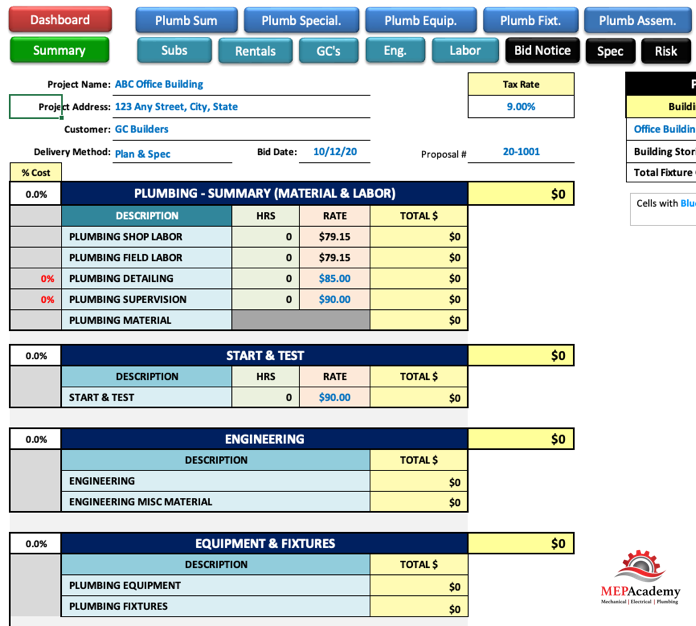 Dashboard of Plumbing Estimating Spreadsheet
The dashboard provides a quick visual overview of the total project along with cost metrics that let you compare one project against another. This allows you to learn what metrics are important to keep track of, and allows you to quickly spot something that doesn't look correct. Below is a screen shot of the upper portion of the Dashboard.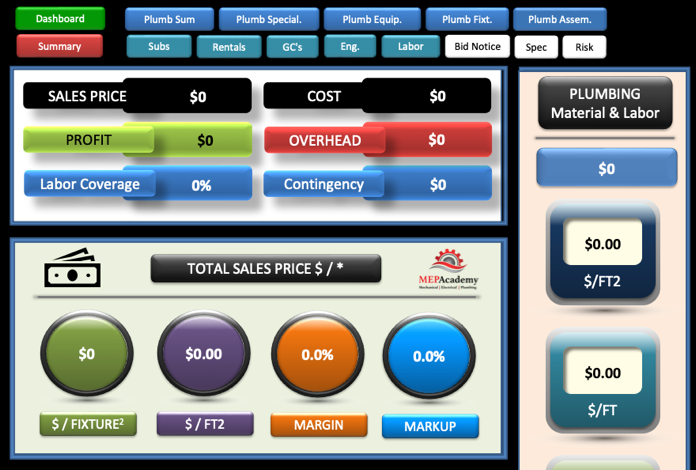 The following additional sheets will help you manage your estimating process and determine if a project is worth spending the time and money to pursue.
Risk Assessment Sheet
This sheet allows you to assess the risk and rewards of pursuing a proposed estimate based on very real risk. Fill out the form to determine if the project is worth pursuing based on the values you give each category. This sheet can notify the estimator or salesperson if they need to get upper managements approval due to a poor risk rating.
Plumbing Specification Review Sheet
This sheet allows the estimator to record the important sections of the specifications. Using this sheet you can enter those items that are commonly seen in specifications in your region, and as a reminder for the estimator to search for in the current specifications.
Bid Notice Sheet
This allows you to document the important aspects of the project that bidding, such as bid date and time, job walk dates, deadlines for RFI's, etc.
Click on this link to get this best in class Plumbing Estimating Spreadsheet.