Digital Planner for Construction Estimators. This is the only digital planner especially made for construction estimators that allows for tracking of all the important task of the job.
The digital planner is automatically linked to all the pages, just click any link and it will take you to that page. This digital planner is available for the GoodNotes and Notability Apps.
If you prefer to watch the video of this presentation then scroll to the bottom or click on this link Digital Planner for Construction Estimators
Bid Schedule

Let's start with the Bid Schedule. Here is where you will list all the projects that you're currently bid including the bid due date and time, any job walk and RFI deadline dates and who it bids to. The first item which is the Estimate number is used throughout the planner to track all the documents related to that particular project.
Bid Log
The bid log is a history of all your bids for the current year. Here is where you can quickly go to see the date of any project you bid, the amount of the bid, the corresponding material take off pages which we'll show shortly.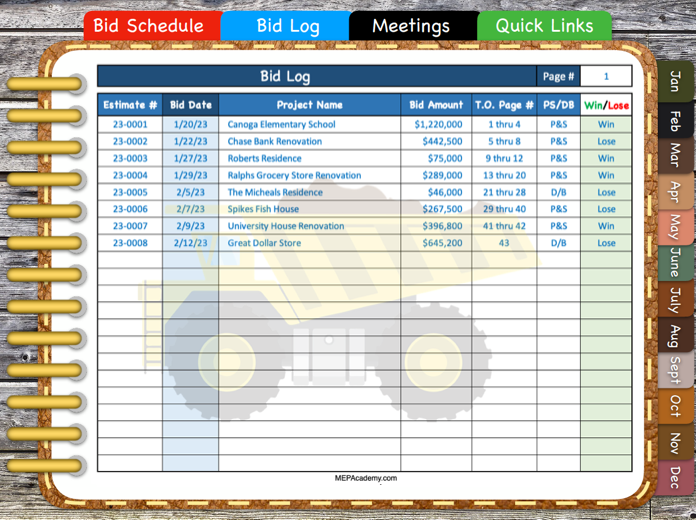 The delivery method whether plans and specs or Design/Build or any other method, and whether you were successful. Keeping track of your wins and losses for the year will help you at the end of the year to do a wins/loss percentage and to see what type of jobs you were most successful at.
Project Details
Next we'll hop over to the "Project Details" page where you can quickly see the address of the project and the key players, like owner, Architect, Engineer. Who the competition is. If bid bonds, Performance and Payment bonds are required.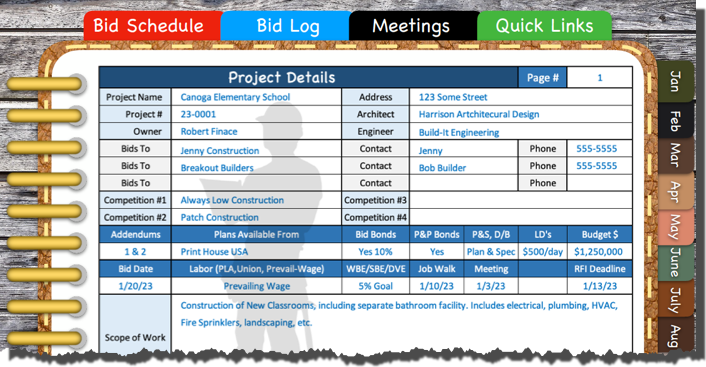 Delivery method, and if Liquidated Damages apply. If there is a owner budgeted amount. If there are any labor requirements, such as prevailing wages, any disadvantaged enterprise participation requirements, bid meetings, and a place to indicate a brief scope of work.
Job Walks
This form keeps track of all your job walks and a list of those in attendance and it records any important details that need to be noted.

RFI Log
There is an RFI log to track when RFI's are due and if and when you submitted any with a brief description of the scope.

Quantity Takeoffs
You can do material takeoffs if you like and it will remain in your digital planner for ever. Document the drawing and detail number along with a description of the item required. Back at the office input the required material and labor cost for a quick estimate.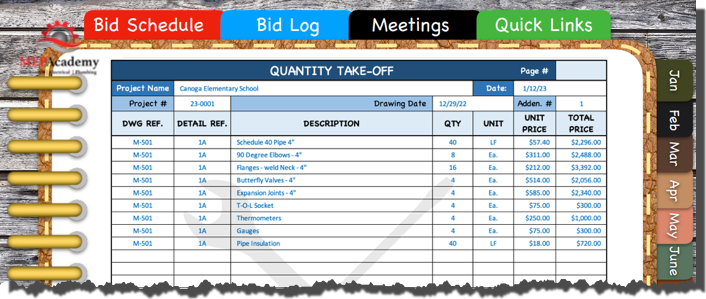 Project Meetings
Keep track of all your project meetings for the year in one neat digital planner. This is a record of when and where meetings are held, and who was in attendance, along with notes of what was discussed and the important items that need your attention.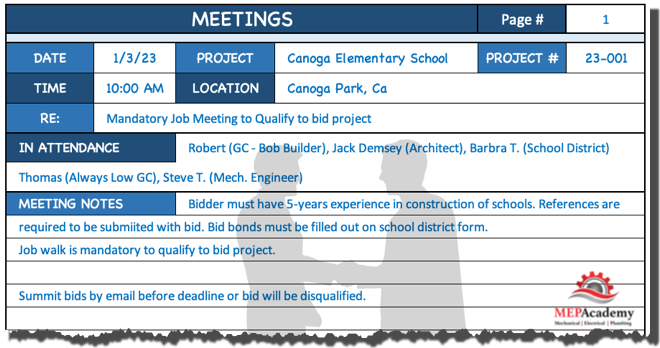 Specification Review
Record all the important sections of the specifications to ensure that you don't forget to cover the cost of high impact specification sections.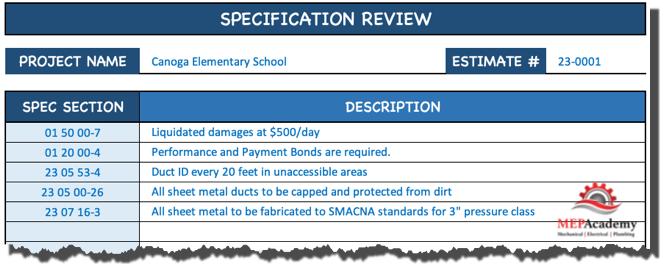 Goals
List your personal and business goals. Remember if you write it down you're more likely to accomplish your goals. So start tracking your goals.
Misc.
This is for anything you want it to be.
Note Paper
Somewhere to take additional notes for later review. Items that may not fit in any other category.
Things to Do
List the important things that you need to get done every day, starting with this most important to your success in life and business.
Graph Paper
Somewhere for you to make sketches of project conditions or when discussing construction projects with the owner, contractor or sub.
Monthly Calendar
The digital calendar includes all the months for the year.
Yearly Overview
Included is the complete yearly calendar for quick reference.
This digital planner has everything you need to keep accurate records of your complete year of estimating, all in one easy file.
Any of the pages can quickly be duplicated, allowing for an endless amount of projects and estimates for the year.
Start keeping track of all your estimates by requiring a digital planner of all your estimators.
The planner is available with the following link. Digital Construction Planner