How a Condensing Boiler Works. We'll explain how condensing boilers or condensing heaters work and their residential and commercial applications. Why are condensing boilers more efficient than the standard non-condensing boilers? We'll explain what you should think about before adding a condensing boiler to your home or commercial property.
To watch the FREE YouTube version of this presentation, scroll to the bottom.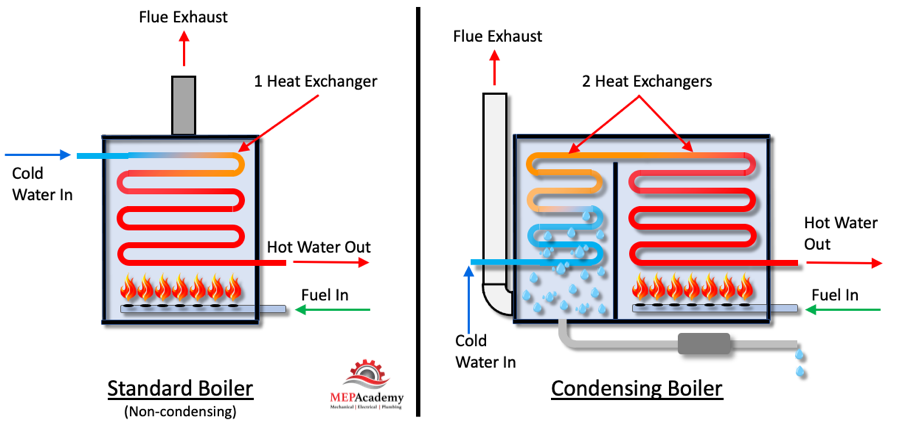 Before we explain how a condensing boiler works, it's best to understand how a conventional non-condensing boiler operates.
Checkout these Condensing Boilers here
How Standard Boilers Work
The conventional non-condensing boiler uses one heat exchanger to transfer heat between the burning fuel and the water. As the water enters the heat exchanger it absorbs heat from the combustion of fuel that has been ignited with a mixture of air.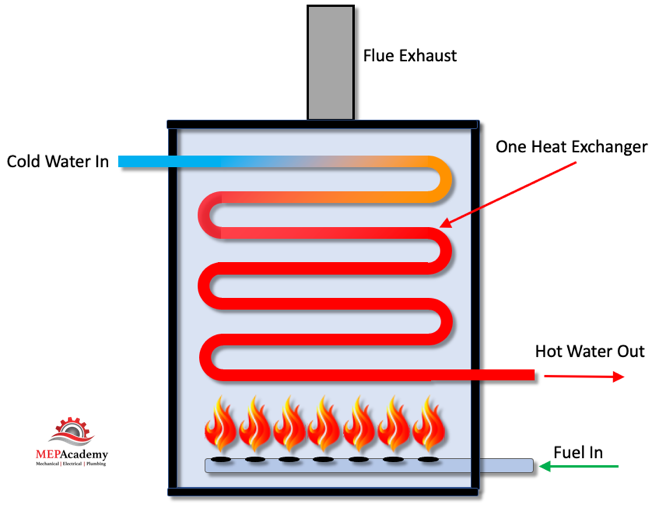 The water enters cold, and leaves heated for use in heating spaces or domestic water purposes. The high temperature flue gas is exhausted out to the atmosphere through a vent. This is wasted heat and energy that you have paid for. If this boiler is 75% efficient, then basically you've exhaust 25% of your money out the flue. The condensing boiler makes use of this heated flue gas before its exhausted to the atmosphere.
How Condensing Boilers Work
How a Condensing Boiler Works by using two heat exchangers instead of one. This additional heat exchanger is used to capture the heat from the flue gases being exhausted. It's called a condensing boiler becomes it removes latent heat (moisture) from the hot flue gas causing water to condense out of the flue exhaust air. This moisture collects at the bottom of the heat exchanger and must be drained to an approved drain receptor, much like you would with an air conditioners condensate drain. Since the heat exchanger is exposed to moisture it must be made of non-corrosive material, such as stainless steel.
Checkout these Condensing Boilers here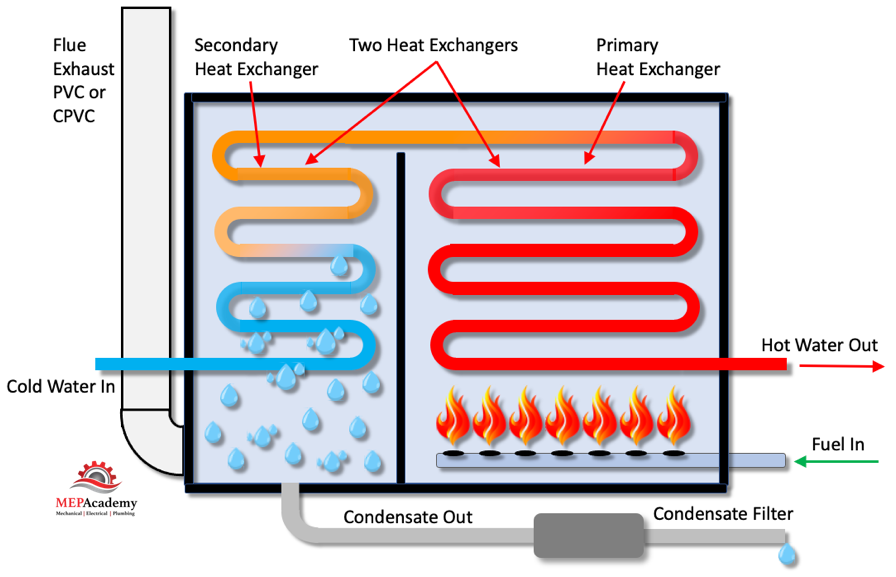 This condensate from the boiler must be treated before it is allowed into the drain system, because it's considered acidic. This is accomplished by adding a little inline filter on the drain line. The filter may contain limestone which absorbs some of the acidic nature of the condensate, neutralizing it before it enters the drain.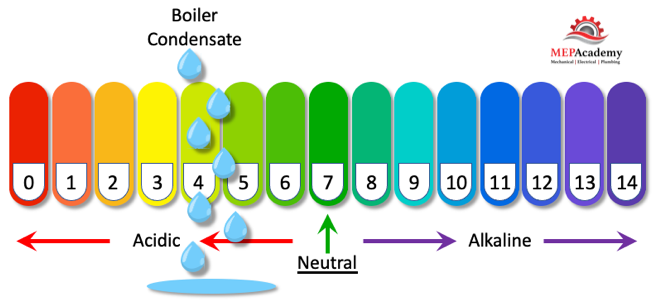 The incoming cold water is preheated as it passes through the secondary heat exchanger before it enters the primary heat exchanger. This secondary heat exchanger is what increases the efficiency of the condensing boiler. The secondary heat exchanger gives the condensing boiler a second opportunity to absorb heat from the energy expended during combustion, by absorbing heat from the exiting flue gases. By capturing heat that would otherwise be wasted the condensing boiler achieves higher operating efficiencies.
These higher efficiencies are why condensing boiler are mandated in some jurisdictions, and why utilities often offer rebates. Check with your local utility company to see if rebates or incentives are available for changing a conventional boiler to a condensing boiler. Non-condensing or standard boilers have a range of efficiency from 75% to 84%, while condensing boilers can exceed 90% and all the way up to 98%. This will allow you to save on your annual fuel cost while also helping the environment.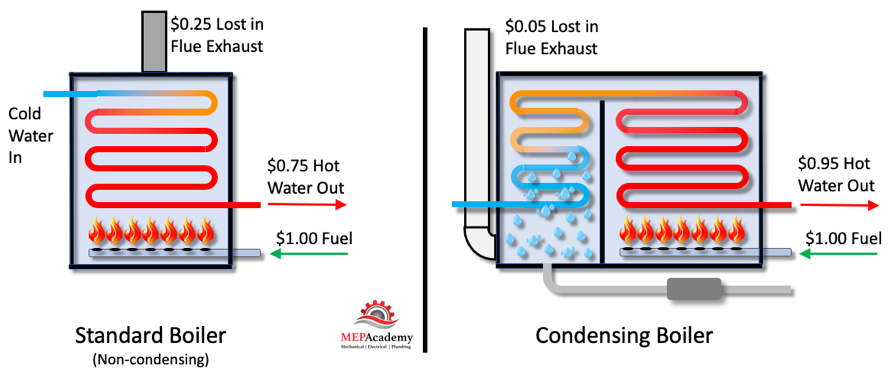 If you spend a dollar on fuel for your standard boiler at 75% efficiency, then you are throwing away 25% of your money through the heated exhaust gases. This is $0.25 cents for every dollar you spend. With a condensing boiler or heater that is 95% efficient, you are making your dollar more efficient as now only 5% is wasted in the exhausted flue gas. This means that for every dollar you spend, only $0.05 cents is wasted on flue gas exhaust.

Within the condensing boiler, the flue gas and water travel in opposite directions. The flue gas first enters the primary heat exchanger, while the water first enters the secondary heat exchanger.
Checkout these Condensing Boilers here
Flue Gas Material
Since a condensing boiler has much lower flue gas temperatures, most manufactures recommend the use of PVC or CPVC. Installing plastic piping is easier and less expensive than the standard metal flues used in conventional boilers.
For those of you who love the science behind the operation, just remember that the latent heat from the condensation provides around 970 Btu/Lb. of latent energy. This latent heat is what contributes to the increased efficiency, as this heat would otherwise be exhausted to the atmosphere. Boiler efficiency increases as the return water temperature decreases. Condensation occurs below 130F (54.4C), with the greatest efficiencies occurring the closer the return water gets to 60F (15.5C).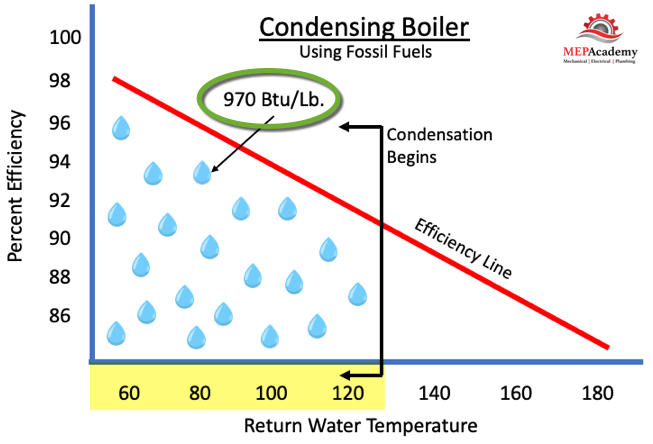 In commercial applications its best to get your supply temperature down to 140F (60C) as this provides an opportunity for better efficiencies. The engineer will have to make sure that the heat exchangers or whatever is receiving the heating hot water can operate at lower supply temperatures, as this will affect the surface areas of coils.
Considerations for Retrofitting a Non-condensing Boiler to a Condensing Boiler
Here are some main points to consider in commercial applications when retrofitting a project that has a conventional non-condensing boiler to a new condensing boiler.
Keep return water temperature as far below 130F (54.4C) as possible to take advantage of the increased efficiency at these lower temperatures.
Condensate drain piping with an inline filter to neutralize the acidic condensation. This includes the requirement for an approved drain receptor.
Boiler flue/stack to be installed using PVC or similar material
Heat Exchanger to be made of non-corrosive material, such as stainless.
Higher delta-T for existing fan coils or heat exchangers. Do they have the ability for lower flow (GPM) with greater temperature difference using a lower return temperature?
The old system might have been designed with a smaller Delta-T, maybe 20F (11C) (The difference between Supply & Return Water Temperatures). The new condensing boiler can run on a wider range of Delta-T, such as 30F to 50F (17C to 28C), allowing for lower GPM's and pressure drops through heat exchangers. This saves on pump energy due to reduced flow and head.
Applications for using lower return water temperatures and a condensing boiler include, residential water heating and swimming pools, water-source heat pumps, hydronic radiant heating, snow-melt systems and geothermal.