How Smart Thermostats Work. We'll learn how the various features of a smart thermostat works, as the prices vary based on feature availability, and not all Smart Thermostats contain all these features so be sure to review the following list.
If you prefer to watch the Video of this presentation than scroll to the bottom or click on this link. How Smart Thermostat Features Work.
Why Should I Use a Smart Thermostat
The simple answer is that it will save you money and allow you additional conveniences over the traditional thermostat. With a smart thermostat you can control your heating and cooling unit from a smart device, such as your phone, tablet, or computer. With the use of wireless technology your smart thermostat can be controlled from anywhere you have an internet connection.
Checkout these Smart Thermostats here
The United States uses the Energy Star program to identify smart thermostat manufacturers that meet the requirements for reduced energy use as demonstrated across the country in different climate zones. By choosing an Energy Star certified smart thermostat you should be assured of its ability to save energy and enter a low-power standby mode when inactive, which saves you additional money and energy.
Where Can I Buy a Smart Thermostat that is Energy Star Certified
We will provide you with links to the top-rated smart thermostats that are Energy Star Rated in the Video Description below and will cover some of the features they may contain. The smart thermostats can range in price from below $65 to over $300 depending on the features. We'll also provide a link to the rebate finder for possible rebates for various models. Eligibility is usually based on the replacement of an old non-smart thermostat and the smart thermostat must be on the Qualified Products List for the program.
https://www.energystar.gov/rebate-finder
The Energy Star rebate finder allows you to search by your zip code to find a local store in your area, or you can order online through the links we provide in the video description.
Smart Thermostat Compatibility
It's important that you verify that the heating and air conditioning unit you're using is compatible with the smart thermostat that you want to purchase. You can consult an expert, or you can check the compatibility on the website of Smart Thermostat manufacturers, where they have a compatibility checker to assist you.
Here is the famous Nest Thermostat website that has a compatibility checker. First they request that you shutoff the power at the fuse box to avoid the possibility of an electrical shock, then remove the cover of your thermostat.
Next check for any of the following to be true, which would indicate that your existing system is incompatible.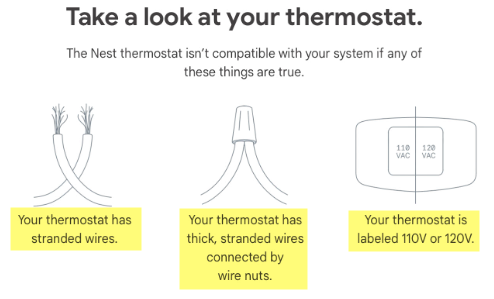 Does your thermostat have stranded wires?
Does your thermostat have thick, stranded wires connected by wire nuts?
Is your thermostat labeled to be supplied with 110 or 120 volts?
Continuing to the next screen we see that there are buttons that you click to indicate which wires are connected to your existing thermostat.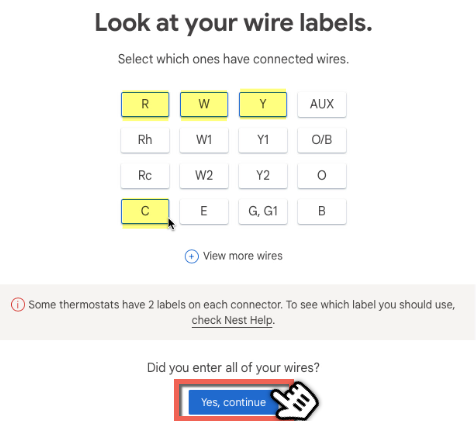 If you indicate that you have connected wires "R", "W", "Y", and "C", and then click to continue, the compatibility checker informs you which Nest thermostats are compatible with your existing wiring. As you can see they've listed three thermostats that are available for your system.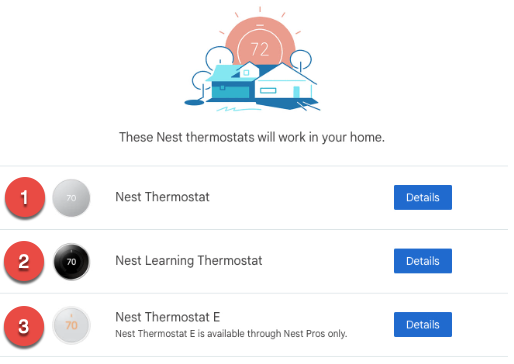 Existing Heating and Cooling System
Most heating and cooling systems installed after 1975 are compatible with smart thermostats. Some systems that use an oil burner or furnace may require an adapter. HVAC systems that have variable speed or multi-stage compressors or have zoning will probably require a professional for the installation. Baseboard heating, biofuels, or in-wall heaters are most likely incompatible with smart thermostats. With all that said, most HVAC systems are compatible with smart thermostats.
Checkout these Smart Thermostats here
Existing Wires and Voltage
If after removing the cover of your old thermostat you discover thicker wires for line-voltage control, then the chances are that your system is incompatible with a smart thermostat. Most of the smart thermostats on the market today use thin, low-voltage wires. Most of the smart thermostats operate with electrical power provided through a common wire to allow for consistent and reliable power for the Wi-Fi connection and the touch screen display. If your system doesn't have a common wire then you may need an adapter, or a smart thermostat that can work without it if available.
Smart Thermostat Features
The features of smart thermostats vary, so it's important that you understand each of the features and choose a thermostat that gives you what you want.
Remote Control. From anywhere where there is an internet connection you can adjust your smart thermostat using your smartphone and a Wi-Fi connection.
Automatic Learning. This feature will allow the smart thermostat to learn and adapt to your routine and preferences for temperature and adjust temperature settings based on a schedule of when you sleep or are away.
Geofencing. If you grant permission to your smart thermostat, it can use the app on your smartphone to determine when you're at home or away. This feature allows the smart thermostat to save energy by adjusting the temperature lower in heating mode, and higher in cooling mode when you are determined to be a certain distance from your home. This also works to inform the smart thermostat that you are approaching home and to adjust the temperature to your liking.
Vacation Mode. You can inform the smart thermostat when you're on vacation and it will maintain the appropriate temperatures to avoid freezing water pipes or extreme heat in summer months. These temperatures will be much different then what they will be when the property is occupied.
Automatic Software updates. This will allow the system to update the application software to ensure that you have the latest and greatest energy saving features.
Sensors. With the use of temperature or occupancy sensor technology you can manage extreme temperature differences. When there is one HVAC system serving several spaces that have differing heating and cooling load profiles, hot and cold spots can occur. The Temperature Sensor will allow the smart thermostat to adjust for these differences. Using an Occupancy Sensor allows the smart thermostat to identify highly occupied rooms and prioritize their temperature.
Voice Commands. Some of the smart thermostats are compatible with voice command programs which will allow you to tell the smart thermostat to increase or decrease the temperature setting in addition to other commands.
Play Music. Yes, some smart thermostats can stream music with an internal speaker.
Where to Locate a Smart Thermostat
The smart thermostat should be located as close to the wi-fi router as possible. Prevent from putting the smart thermostat on an exterior wall or where it will receive direct sunlight as this could give the thermostat a false reading of the interior temperature.