For an HVAC Piping Estimators the need for quick budgets for the installation of piping is best handled with a spreadsheet of different material types and sizes. Having an estimating software program can make this process a lot easier, as the material pricing is always up to date and can be entered into the spreadsheet quickly. You can get a copy of this spreadsheet to help you price piping fast and efficiently.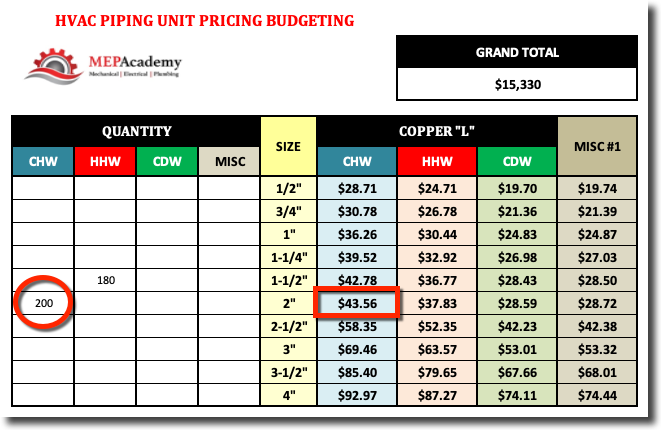 HVAC PIPING UNIT PRICING 
Often the requirements of the RFP or bidding instructions will call for the price per foot to install piping beyond that which is required by the contract drawings. Such pricing maybe used for change-orders. Having these numbers available and updated often also gives you a quick reference for budgeting projects. It's good to know when doing job site comparisons of different piping options or during discussions with engineering, what the cost is for the various piping sizes and types of materials.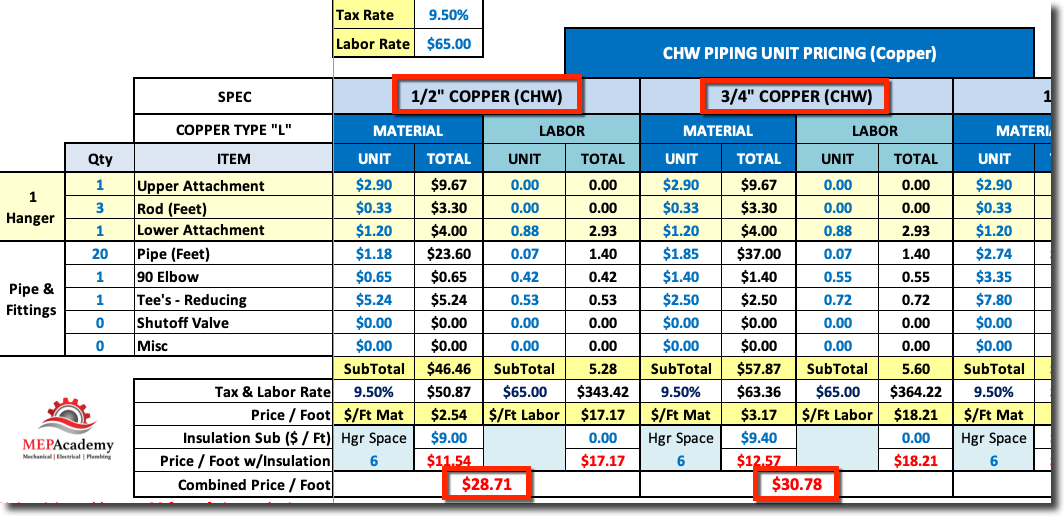 COST PER FOOT
The cost per foot for the installation of piping needs to include fittings and hangers prorated into the value. It's best to look at a standard length of pipe and then figure that you will have a Tee and 90 degree elbow in that length.
So for example, using twenty feet of copper water pipe with a Tee and 90 degree elbow plus the hangers to build a unit price would represent a field condition of a fitting every ten feet.
For higher density projects like Hospitals you could put more fittings in your unit pricing. Total those cost up and then divide by 20 to derive at a cost per foot for that particular size and material type.
20 feet of pipe + 2 Fittings + 3 Hangers / 20 = Cost per Foot
If the piping is insulated, you can also put the values in for insulation.
The Estimating Wizard provides two spreadsheets for tracking unit pricing, one for HVAC Piping and the other for Plumbing piping. Get a copy and start tracking your cost per foot, or be prepared to give a quick budget based on your knowledge from your spreadsheet of unit prices. Watch the video below to see how quick and easy it is to track the cost per foot for various sizes and material types. 
MEP Academy HVAC Piping Unit Pricing Spreadsheet
The MEP Academy provides a spreadsheet that makes calculating unit pricing simple. The spreadsheet is available by following this link, HVAC Piping Unit Pricing Spreadsheet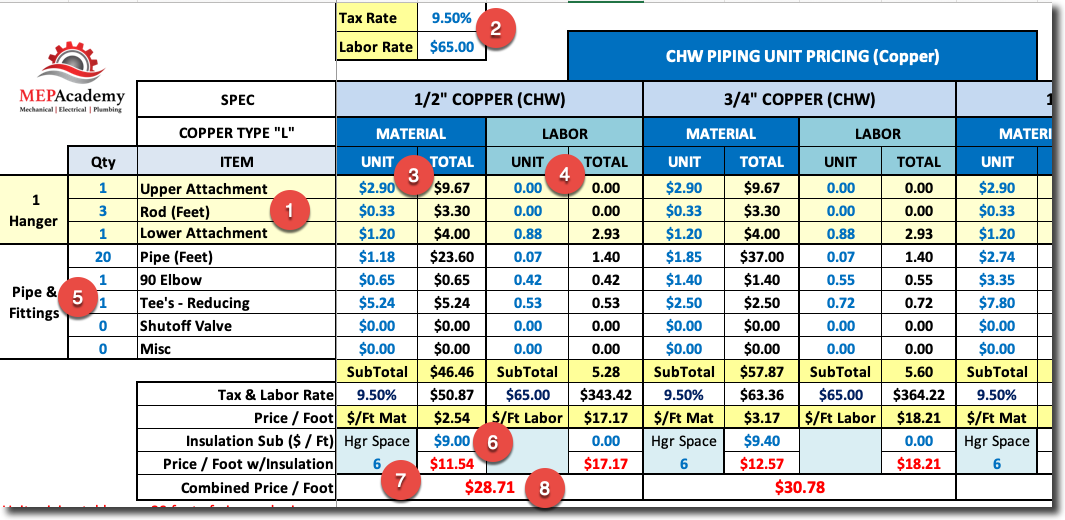 In the screenshot above there is a place for you to build your hanger requirements (#1), and a place to put your tax rate and hourly labor rate (#2).
For each size of pipe and material type you would insert the unit cost for Material (#3) and Labor (#4).
Under item (#5) you would build your typical run of pipe and enter the quantity of fittings you might expect for the type of building and system. You would add whatever you think will be required for every so many feet of pipe. In the example above we are showing that for every 20 feet of pipe you will have 1 Elbow and 1 Reducing Tee.
Under item (#6) you would add the cost per lineal foot for insulation if required. You could also look at insulation as a separate value and leave the pipe bare.
Line item (#7) is where you indicate the hanger spacing, and for each hanger you defined under item (#1) you will get the quantity as defined by the linear feet in item (#5) divided by your hanger spacing, which will affect your cost.
Line item (#8) is the calculated cost per linear foot of piping for that size and material type of pipe.
Summary Sheet
After you have all your unit pricing information inputted into the spreadsheet, all you have to do to get a budget for installing piping is to enter the quantity of piping (#9) for each size and material type (#10). The system will automatically calculate the cost (#11) to install that run of piping based on your unit pricing data. The total cost will be shown at the top of the spreadsheet (#12).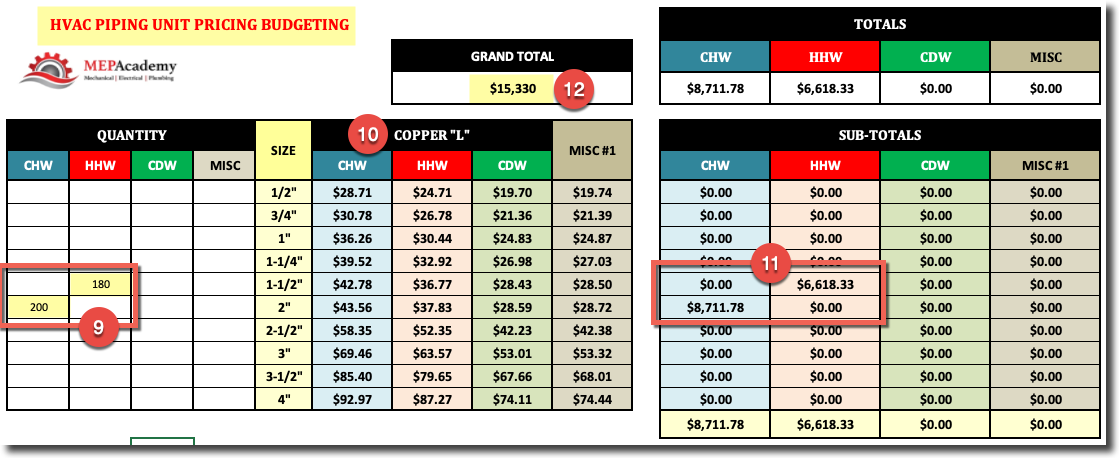 You can get your copy here. HVAC Piping Unit Pricing Spreadsheet